In The News
Maureen along with Sisqo will be the guest-judges on the premiere episode of America's Most Talented Kid for NBC on Friday, March 21st. The talent-search show, will narrow down a field of child performers -- singers, actors, jugglers, whatever -- to winners in three age groups: 3 to 7, 8 to 12 and 13 to 15. Lance Bass of *NSYNC is the show's only permanent judge, but he'll be assisted each week by a rotating group of guest judges, including Maureen.
ABC is celebrating 50 years. The special event, which was taped Sunday, March 16 at the Pantages Theater will air sometime in May. On hand from the cast were Florence, Barry, Chris, Maureen, Susan and Ann B. Davis.
Photos from the Event, More Photos, More information on the Event
Columbia House is releasing episodes of Touched by an Angel. Included in one of the tapes is the "Clipped Wings" with Maureen.

Maureen completed a Cameo Role in "DICKIE ROBERTS - FORMER CHILD STAR" for PARAMOUNT STUDIOS several weeks ago. Watch for it.!!!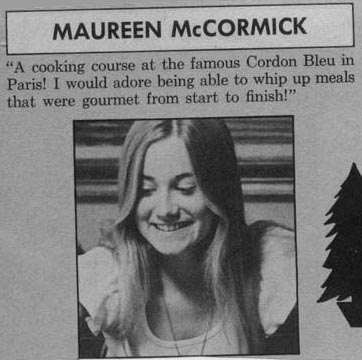 Hmmm??